Are you new to massage or my offices? Well, I'm glad you found me! Let me walk you through the process:
First, pat yourself on the back – you made a great decision for your body. 🙂
Prior to Your Appointment
Prior to your appointment, please print the intake form below and fill it out to the best of your knowledge.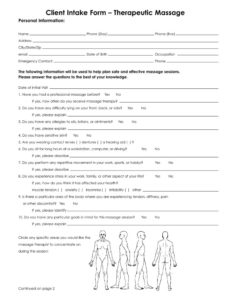 If you have any chronic illnesses, recent surgeries, or are taking any special medical prescriptions and question if massage would be safe, please consult with your physician prior for medical clearance.
If you're scheduling an oncology massage, I also ask that you fill out the health history form below and bring it with you to your appointment.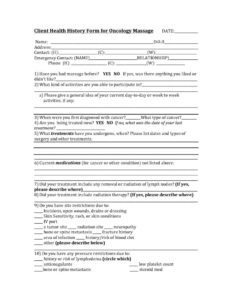 Any questions, please call me. I am happy to be of assistance. Filling out paperwork ahead of time safes us more time for your massage!
Day of the Appointment
If you are a new client, please arrive 15 minutes early. This extra time will allow us to go over your health history thoroughly and address all your specific needs and expectations for the massage without taking precious time from your massage. Besides health history, I will ask about the current state of your body, any possible areas of stress, or any particular areas of pain or tension. I will also ask if you have had a massage before as a way to better hone in on what you like or don't like if you have.  Together, we can also discuss if your preference is light, moderate, or deep pressure.
Preparation
After we have completed our brief interview after I have left the room, I invite you to undress to the level of your comfort. This can mean getting completely undressed, getting undressed to only undergarments, or it can mean remaining partially clothed in a manner that is most comfortable to you. This is your appointment! I can work above or around clothing if need be. Once undressed and ready, you may lay on the table, under the sheets and blanket, either face up or face down depending what we had discussed. I will gently knock on the door and wait for you to announce when you are ready for me to re-enter the room.
The Massage
Once I re-enter the room, I will ask if you are comfortable and if necessary, make any minor adjustments with the table and bolstering. As I begin the massage, I usually start with gentle holds and compressions over the sheets. As trust is gained and tissue is warmed, I will undrape only the area of the body I will work with, one area at a time so that most of the body is warmed and covered at all times. Private areas of the body will remain covered at all times, unless there is written consent and a doctor's recommendation to work female breast tissue. Massage oil or lotion will be used during much of the massage, as I apply various strokes depending on what kind of work is called for. I might move your limbs into gentle stretch position and it is best to remain relaxed and as limp as possible without any aiding in the movements I apply.  Its your time to relax.  Please let me do all the work. 🙂
During our massage because of the relaxing nature of the experience, there are various responses the body may experience. Some people fall asleep. Others can experience strong emotions, and still others might feel the urge to talk and engage with the therapist – even cry.  All are very natural responses as there are no right or wrong ways for the body to respond.  Every person's reaction to massage and energy work is unique and different and I highly respect each experience accordingly. In our time together, the experience is all about you, the client,  and what seems most comfortable.  The room we will share together is a safe space to let go of stressors and there is never any judgment in our time together. The massage and energy work I offer will help you slip deeper into your body and mind, stimulating your own healing mechanisms to kick in. Depending on the nature of our work, I might check in at times to get feedback and make sure my level of pressure and technique is just right.
After the Massage
Once the massage is coming to an end, you will notice my pace slowing back to a gentle hold. I will thank you and remove any pillows or bolstering from the table. After I leave the room, you will be alone for a few moments as you slowly get up and get dressed. Once you are fully dressed and ready, you may open the door as a way to let me know it is time for me to come back in. We will end our work with a brief chat, checking in to see how you feel. We can also discuss the massage, the likes and dislikes, and learn more together on what is most ideal for your body.  My hope is is to create a lasting relationship with you as our work together evolves and your healing deepens more and more each time.
Ready to Schedule?